Arun Kushwah, born on November 29, 1990, in Gwalior, Madhya Pradesh, India, has quickly made a name for himself in the world of Bollywood. With notable performances in films such as "Dasvi" (2022), "Go Goa Gone 2," and "Luka Chuppi" (2019), Kushwah has captured the attention of audiences and critics alike, solidifying his status as a rising star.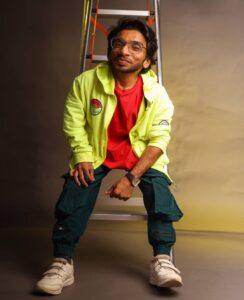 Hailing from the culturally rich city of Gwalior, Kushwah's passion for acting blossomed at a young age. He nurtured his skills by participating in local theater productions, honing his craft, and setting the stage for his future endeavors in the entertainment industry.
Kushwah's breakthrough came when he landed a significant role in the film "Luka Chuppi" in 2019. Portraying a charismatic character, he showcased his versatility and natural flair for acting. His performance resonated with audiences, garnering praise for his ability to effortlessly captivate viewers with his on-screen presence.
Building on his initial success, Kushwah continued to make waves in Bollywood. He ventured into diverse projects, displaying his range as an actor. His notable roles in "Dasvi" and "Go Goa Gone 2" further solidified his position as a talent to watch in the industry. With each project, he demonstrated his commitment to delivering compelling performances and immersing himself in the characters he portrayed.
Kushwah's on-screen charm is complemented by his ability to connect with fans off-screen. Through social media, he has cultivated a strong following, engaging with admirers and sharing glimpses of his personal and professional life. His genuine interactions and gratitude for his fans have endeared him to many, fostering a loyal and supportive fan base.
As Kushwah's popularity continues to soar, he remains grounded and appreciative of the opportunities he has received. He acknowledges the support of his family, friends, and colleagues, crediting them as pillars of strength throughout his journey. With his humility and dedication to his craft, he has become an inspiration for aspiring actors looking to make their mark in the world of cinema.
Looking ahead, Arun Kushwah is set to take on new challenges and embrace exciting projects. His growing body of work reflects his commitment to exploring diverse roles and pushing the boundaries of his abilities. Fans eagerly await his upcoming performances, anticipating the magic he will bring to the silver screen.
In a relatively short span of time, Arun Kushwah has established himself as a prominent talent in Bollywood, leaving an indelible mark with his memorable performances. With his charming persona, versatility, and dedication to his craft, he is poised to carve a significant place for himself in the industry.
As he continues to ascend to new heights, the Gwalior-born actor serves as an inspiration to aspiring artists from small towns, proving that talent, determination, and passion can lead to success in the captivating world of Bollywood.
Conclusion: A Luminous Star on the Rise
The success of Arun Kushwah in Bollywood is proof of the strength of skill and desire. Audiences have been profoundly affected by his performances, and his sincere relationships with followers have made him a popular figure. As he keeps reaching new heights, he inspires budding artists by demonstrating that goals can be achieved with steadfast commitment and the power to move people via the magic of film. Arun Kushwah shines as a bright star on the rise, destined to leave an enduring glow in the alluring world of Bollywood, as the spotlight follows his every step.
FAQs about Arun Kushwah:
Who is Arun Kushwah, and what has he achieved in Bollywood?
Arun Kushwah is a budding Bollywood star who has gained recognition for his noteworthy roles in the movies "Luka Chuppi" (2019), "Dasvi" (2022), and "Go Goa Gone 2." He has attracted the attention of both viewers and critics with his charming on-screen presence and versatile acting abilities, establishing his standing as a talent to watch.
Where is Arun Kushwah from, and how did his acting journey begin?
Arun Kushwah is an Indian native who is from the cosmopolitan city of Gwalior in Madhya Pradesh. His early interest in performing bloomed, and he developed his abilities by taking part in regional theater plays, establishing the groundwork for his future aspirations in the entertainment business.
Which film marked Arun Kushwah's breakthrough in Bollywood?
The 2019 movie "Luka Chuppi" marked Arun Kushwah's big break. He displayed his inherent acting talent and adaptability while portraying a charming character. He was praised for his ability to effortlessly captivate viewers with his on-screen presence after his performance struck a chord with fans.
What other projects has Arun Kushwah been a part of?
Arun Kushwah built on his early success by becoming a household name in Bollywood with memorable performances in the movies "Dasvi" (2022) and "Go Goa Gone 2." His dedication to giving strong performances and becoming completely lost in the roles he played was demonstrated in each production.
How does Arun Kushwah connect with his fans off-screen?
Through social media, Arun Kushwah communicates with his followers and gives them a peek into both his personal and professional lives. Many people have been won over by his sincere interactions with them and sincere gratitude for his fans, which has helped him build a devoted and caring fan following.
What sets Arun Kushwah apart as an actor in Bollywood?
Arun Kushwah's commitment to his art and capacity for emotional engagement with audiences go hand in hand with his on-screen charm. He serves as an inspiration to both fans and budding actors because to his humility and sincere love for what he does.
What can fans expect from Arun Kushwah in the future?
Fans may anticipate Arun Kushwah to take on new challenges and engage in fascinating initiatives as his fame continues to increase. His expanding body of work demonstrates his dedication to taking on many roles and pushing the limits of his skills, leaving audiences yearning for more.
How has Arun Kushwah inspired others in Bollywood?
Aspiring artists from tiny towns might take inspiration from Arun Kushwah's journey from Gwalior to Bollywood, which shows that talent, tenacity, and passion can lead to success in the enthralling world of film. Many people have been moved by his modesty and commitment to his trade.
What emotions does Arun Kushwah evoke in his performances?
Arun Kushwah effortlessly brings his characters to life on screen, evoking a range of emotions from laughter to tears. He is a fascinating performer who leaves an ever-lasting impression on the hearts of viewers thanks to his ability to portray honest emotions.
How would you describe Arun Kushwah's journey in Bollywood?
Arun Kushwah's path to popularity in Bollywood has been regarded as fascinating. He has enlightened hearts and made a name for himself in the profession with his remarkable talent, passion, and real appeal, leaving an imprint that will never fade.